Blue Zones and the West African Heritage Diet
To move forward, it helps to learn from the past. Many people looking for a way out of the food and lifestyle norms we live with in the US are taking a new look at traditional ways of eating from their own cultural histories. All of us have much to gain by exploring what and how our ancestors ate and sharing that knowledge with each other to help us restore and protect our health today. They can also show us where we need to make changes in our modern food system so that it first and foremost serves human and environmental health–the two things we must have to thrive.
Many of you have likely heard of Blue Zones, places where it is common for people to live to 100 years of age, have very few–if any–chronic illnesses, have strong social connections, and remain active throughout their lifetimes. There are five Blue Zones documented: Okinawa, Japan; Sardinia, Italy; Nicoya, Costa Rica; Ikaria, Greece, and Loma Linda, California. Some of the habits of people living in these areas include, among others:
a mostly plant-based diet, and eating their smallest meal in the early evening

regular natural movements, like walking or gardening

routines to shed stress like naps, mindfulness, prayer

and belonging to close family, friends, social, or religious groups.
One study concluded that the average person could increase their life span by 10-12 years by adopting a Blue Zone lifestyle.
Many elements of this way of eating and living are part of the West African Heritage diet, researched by culinary historian Dr. Jessica B. Harris, Walter Willett of the Harvard School of Public Health, and nutrition scientists and experts within the African health and history diaspora. The African Heritage Diet Pyramid below was developed as a guide to help modern-day communities regain their health by building on this heritage. Although some of the specific vegetables, grains, fruits, etc., are more common in West Africa, this diet pyramid is also very similar to that of many cultures that have not adopted a Westernized way of living and eating. They are still connected to their communities, inter-generational families, and nature, and find joy and purpose in their day-to-day life.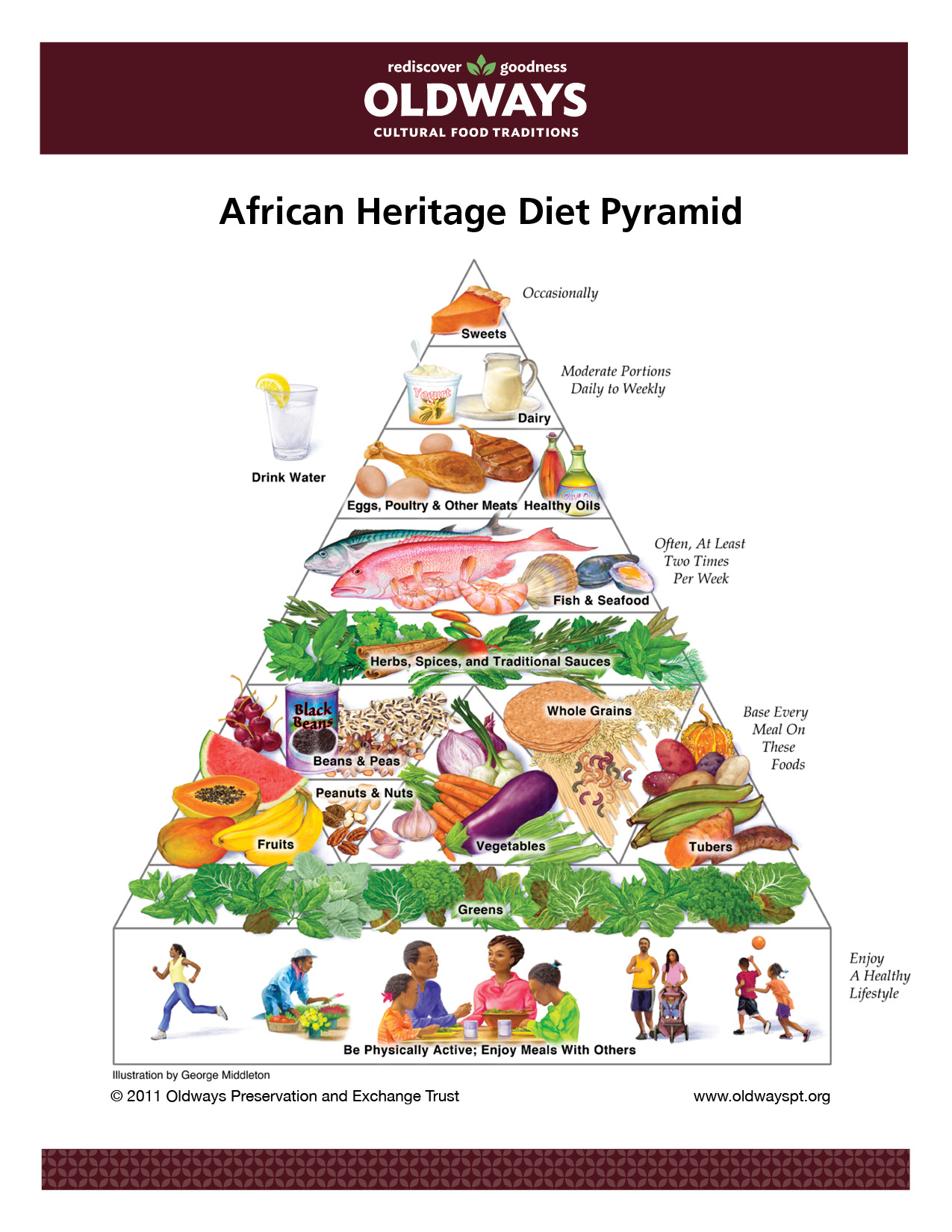 Oldways Cultural Food Traditions is a nonprofit organization helping people rediscover and embrace the healthy, sustainable joys of the "old ways" of shared cultural traditions. They also have programs that focus on Mediterranean, Latin American, Asian, and Vegetarian/Vegan diets. I encourage all of us, regardless of ethnicity or where our foremothers and forefathers were born, to find ways to reconnect to the things that were good in our heritage food cultures. The examples from the Blue Zones demonstrate that people in very different areas of the world had similar healthy practices and relied on–not solely, but primarily–a whole plant-based diet. We have the knowledge to recreate the best in our food traditions and the creativity to make them our own today. For those of us who are part of the African diaspora, it is empowering to know we have a model from our own ancestry as an example of what modern, nutritional science says is the way to live a long, joyful, and healthy life!
---
Vegan "Mafe" Sweet Potato and Peanut Stew Recipe
I enjoyed a similar version of Mafe on one of my first trips to Senegal many years ago—it's flavorful and satisfying! This recipe is based on one from Iba Thiam, chef and owner of Cazamance in Austin, Texas, and it is one of the recipes in Oldways' A Taste of African Heritage cooking program. The sweet potato, a much-loved African heritage food, is a featured ingredient. I modified this recipe to make it oil-free.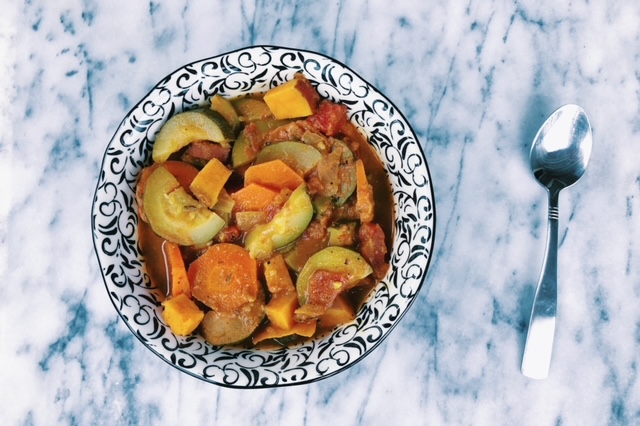 Ingredients:
2 tbs low-sodium vegetable broth (substituted for 2 tsp extra virgin olive oil)
1 medium fresh yellow onion, diced
2 cloves fresh garlic, minced
1 large fresh sweet potato, chopped into medium-size cubes
2 large fresh carrots, cut into thin rounds
2 fresh zucchinis, cut into thin, half-rounds
15 oz canned, diced tomatoes (sodium-free)
2 cups low-sodium vegetable broth
1 tbsp curry powder
¼ cup natural peanut butter
3 sprigs fresh thyme minced, or 1 teaspoon dried thyme
salt to taste
Directions:
On medium, heat 2 tbs of vegetable broth in a non-stick soup pot and add and sauté the onion and garlic until translucent (3-4 minutes). Add just enough additional broth if needed to keep the onion and garlic from sticking.
While the onions and garlic cook, chop up the sweet potato, carrots, and zucchini.
Add sweet potato, carrots, and zucchini to the pot; saute for 3-4 minutes.
Add the diced tomatoes, remaining vegetable broth, and curry powder, and bring to a boil. Cover and simmer for 10 minutes.
After 10 minutes, add the peanut butter and thyme to the stew. Cover and allow to cook for another 3-5 minutes.
Salt to taste, serve, and enjoy!